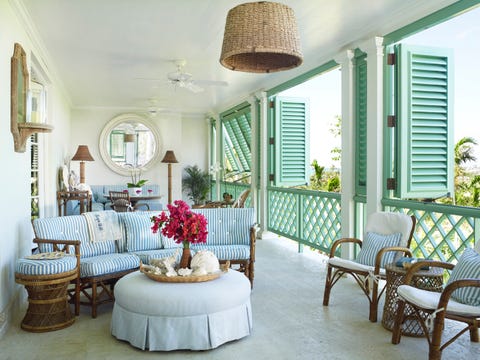 Courtesy of Amanda Lindroth
The design world is raising money for communities hit hardest by the novel coronavirus with the Design Unites auction, which has launched its second batch of biddable items. And a virtual design consultation with the Queen of Rattan, Amanda Lindroth—along with a complete living room makeover from Industry West and Favor—are at the top of our wish list from the latest round of unique items and one-of-a-kind experiences up for auction.
Eighty percent of all funds raised through the Charitybuzz sale, put together by ELLE Decor, Town & Country, House Beautiful, and VERANDA, will go directly to Habitat for Humanity's COVID-19 Emergency Housing Response Fund. New items and experiences will be added to the site through December.
The charity sale raised over $18,000 in its first round, and the second lot, which you can find outlined below, will be available through May 13.
"At Hearst's Luxury & Design Collection, we want to give back and support our city through challenging times," says Jennifer Levene Bruno, the VP of publishing for Hearst Magazines Luxury & Design Collection.
"In an effort to lend support to New Yorkers in extreme need during this pandemic, the Hearst Luxury & Design Collection has launched Design Unites, a platform created to help individuals and families by raising funds through auction on Charitybuzz.com. We are proud to share that all funds raised will go to Habitat for Humanity New York City's COVID-19 Emergency Housing Response Fund. Please support our cause by visiting our brands' websites to learn more about how you can make a difference."
The lot is comprised of both unique items and one-of-a-kind experiences, giving participants a rare opportunity to bid on these special products and services while giving back to communities in need.
See below for a list of all items being auctioned, and visit the CharityBuzz site to start your bidding here.
CURRENT LOT (May 26 – June 9) :

Currey & Co.: Opal Table Lamps
Industry West and Favor: An Industry West x Favor Living Room Makeover
Amanda Lindroth: Virtual Design Consultation with Amanda Lindroth and a signed copy of "Island Hopping"
Vrai Jewelry: Round Brilliant Diamond Pendant .5 carat
Jillian O'Neill: Mini Emma Bench from the Jillian O'Neill Collection with a Coffee or Cocktail Hour with Designer Jillian O'Neill

Mario Laz: Marlo Laz Personalized Jewelry Consultation via FaceTime with Designer Jesse Lazowski & Custom Gift
Pure Salt Interiors: Living Room Refresh From Pure Salt Interiors
Cowtan & Tout with Alex Papachristidis: Design Consultation from Alex Papachristidis with $5000 Worth of Cowtan & Tout Fabric
Costa Brazil: Costa Brazil Skin Ritual Kit with Limited Edition Gift Wrap
PAST LOTS:

Avocado Mattress: Healthy Bedroom Makeover with Avocado Mattress
Lenox: Made in the USA Rutledge Dinnerware by Lenox
Vaughan Designs: Furniture & Virtual Consultation with Lucy Vaughan
Trevor Tondro Photography: One Day Shoot with Renowned Interiors Photographer Trevor Tondro
Altuzarra: Altuzarra "Cuff" Bag in Saddle
Thomas Lavin: Join Design Guru Thomas Lavin for a Private Tour of his West Hollywood Showroom, a Personal Invitation to one of his Exclusive Events & a Chic Rosemary Hallgarten Pillow and Throw
Circa Lighting: Antonio Articulating Task Lamp by Thomas O'Brien
Laura Deems: Laura Deems Consultation and Commissioned Painting
Highline Hotel: Staycation in New York City
Claudia and Douglas Morse: Flowers in Vase Acrylic Painting by Peter Max
Serena & Lily: Coastal Calm: A Serena & Lily Bedroom Makeover
Ornis Gallery: Anglo-Indian Animals (Circa 1800s) from Ornis Gallery
Francine Turk: The Paris Salon; Collection Noire by Francine Turk
Martyn Lawrence Bullard: Pajama Party with A-List Interior Designer Martyn Lawrence Bullard at his West Hollywood Office
Alida Hotel: 2-Night Getaway at the Alida Hotel in to Savannah, Georgia, Plus Dinner at Pink House & Walking Tour of Savannah
Jean Prounis: Enjoy Afternoon Tea with Designer Jean Prounis at her NYC Studio, Plus Receive Lapis Pileus Earrings
Sisley Paris: Sisley Paris At Home Spa Collection
Melissa Joy Manning: One-of-a-Kind Jewelry Making Workshop with Melissa Joy Manning in Brooklyn, New York
American Ballet Theatre: 2 Tickets During American Ballet Theatre's 2021 New York City Season at Lincoln Center, Plus Backstage Tour & Access to the Patron Lounge
LAGOS: Caviar Lux Diamond X Bracelet from LAGOS
Hunt Slonem: One-of-a-kind Hunt Slonem Untitled diamond dust bunny painting
Ornis Gallery/Lee Radziwill: Anglo-Indian Botanicals from Ornis Gallery/Lee Radziwill
THE WELL: THE WELL 1-Year Digital Membership
Arhaus: Arhaus Furniture & One-on-One Virtual Consultation with an Arhaus Designer
Joe Lucas: Virtual Design Consultation with Famed Designer Joe Lucas to Transform Your Powder Room with CW Stockwell
Heath Ceramics: Original Hand-Thrown Bowl by Ceramist Tung Chiang of Heath Ceramics
Aireloom: The Ultimate Aireloom® Preferred Bed Package & Virtual Consultation with a Sleep Expert
PAST LOT:
Myka Meier: Private Virtual Etiquette Lesson with Beaumont Etiquette
Redd Kaihoi: William Stuart Thornton Pressed Botanical print
Stellene Volandes: Holiday Jewelry Shopping with Town & Country Editor in Chief, Stellene Volandes, Virtually or in NYC
Robbie Fairchild & Chris Jarosz: Rooftop Dance by Robbie Fairchild & Chris Jarosz
Juniper Books: Phone or Facetime Consultation & Curated Bookshelf by Juniper Books Founder, Thatcher Wine
Jonathan Adler: Limited Edition Signed Vase from Jonathan Adler
Daniel Boulud: Skybox Experience at Restaurant Daniel for 4 People in NYC
Whitney Robinson: "Ask Whitney Anything" | Exclusive Virtual Meeting with Elle Decor Editor in Chief, Whitney Robinson
Nick Fouquet: Custom Nick Fouquet Hat
Nate Berkus: Virtual Design Presentation by Nate Berkus, Plus a Copy of his book, The Things That Matter
Justina Blakeney: Virtual Social Media Workshop with Justina Blakeney, Founder of Jungalow
Eddie Ross: Learn How to Throw a Virtual Dinner Party with Style Expert, Eddie Ross
Bobby Berk: Virtual Design Session with Queer Eye Interior Design Expert, Bobby Berk
Sally King Benedict: Virtual Art Consultation & Custom Painting from Artist Sally King Benedict
Mark D. Sikes & Blue Pheasant: Mark D. Sikes & Blue Pheasant Garden Picnic Set Including Stoneware Pitcher, Hand Blown Glasses & More, Plus Signed Copy of Mark's Book Beautiful
Ferguson & Shamamian Architects: Virtual Architecture Consultation with Award-Winning Architecture Firm Ferguson & Shamamian
Champalimaud Design & Troutbeck: Two Night Stay at Troutbeck with Lunch and Shopping Tour with Alexandra Champalimaud and Anna Beeber of Champalimaud Design
This content is created and maintained by a third party, and imported onto this page to help users provide their email addresses. You may be able to find more information about this and similar content at piano.io
This commenting section is created and maintained by a third party, and imported onto this page. You may be able to find more information on their web site.