Looking for farmhouse bathroom accessories that are inexpensive without looking cheap? Tired of having a boring bathroom, or just looking to change things up? Want to have a farmhouse look in your bathroom? This post is all about decorating your bathroom in the farm house style. Learn which accessories are the best for decorating your bathroom with. Get the bathroom you've been dreaming about.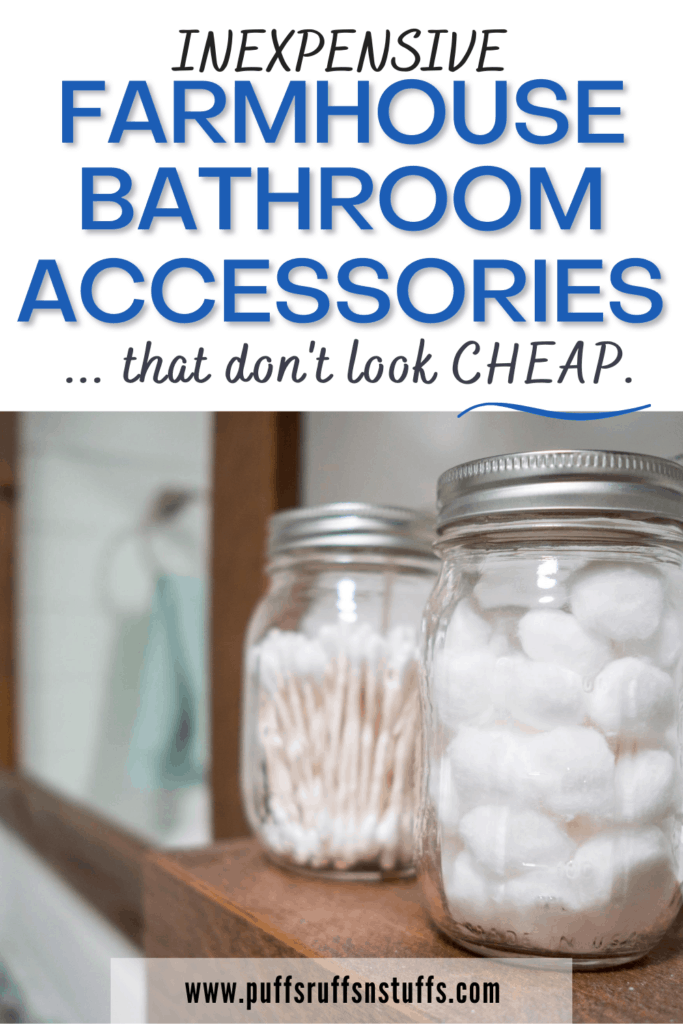 If you're in a hurry (or just curious!) –
✅ Check out these items on Amazon
What are some must have farmhouse bathroom accessories?
Different people will have different opinions on which bathroom accessories are must haves. Personally, when looking for farmhouse bathroom accessories I consider a trash can, toilet brush holder, rugs, and wall decor must haves. Other farmhouse bathroom accessories that are nice to have include a soap dispenser, farmhouse toothbrush holder, and farmhouse bathroom shower curtain. After that, I look at towels and more decorative pieces – wall art, plants, and trinkets that complete the look.
Which is the best site to buy online bathroom accessories?
Some of the best sites to buy online bathroom accessories are Target, Amazon, Hobby Lobby. You can find some really nice home decor at Hobby Lobby, Target, and Amazon. With Hobby Lobby in specific, just be sure that you are waiting until the sale day to purchase items. They often have sales, and it is a great way to save usually about half of the cost of an item.
What are the benefits of purchasing bathroom accessories online?
One of the main benefits of purchasing bathroom accessories online is that you get a much wider range of farmhouse bathroom accessories to choose from. Instead of just five toilet brush holders at a store, there are 50 available. When you are purchasing bathroom accessories online, be sure to check out the number of reviews and the score that items receive. I usually pass on an item if it is a five star item with only one or two reviews – it is too easy to game the system. When an item has hundreds or thousands of reviews and they are all above four star, that's when you know you are looking at a quality item.
Black Bathroom Faucet
This bathroom faucet is perfect for your farm house decor style bathroom. The black color will stand out in almost any color scheme. The style is reminiscent of old fashioned water pumps that you would find on a farm. This bathroom faucet is made of heavy duty solid brass. It has a matte black finish. It is compatible with a 1 or a 3 hole style sink basin. This bathroom faucet comes with the drain pop up cover, and two new water lines for connecting to your existing water lines. This waterfall style bathroom faucet is truly beautiful and will bring the rustic country look to your bathroom.
Product Features:
This black bathroom faucet provides a clear and steady waterfall stream.
Lever handle is designed for ease of use for water flow and temperature adjustment
Matte black finish creates an antique look.
Super easy to install and clean this bathroom faucet.
Compatible with 1 or 3-Hole or 4 inch centerset installation escutcheon included.
Built-in a Ceramic disc cartridge, a high seal performance cartridge valve to prevent leaks and dripping.
Galvanized Sheet and Wood Wastebasket
Another great bathroom accessory for your rustic farmhouse bathroom is this wastebasket. Made with real wood, it looks like galvanized metal but is actually made with resin for durability. This adds texture and interest to your bathroom. Reminiscent of an old farmhouse milk pail, this wastebasket is a great farmhouse bathroom accessory.
Product Features:
Galvanized Steel look resin and Wood
Bathroom accessory set adds a functional touch to secondary and master bathroom decor.
Black Farmhouse Bathroom Vanity Light Fixtures with Golden Trim
This stunning bathroom light fixture will instantly upgrade your farmhouse bathroom decor game. Do you still have those builder grade brass fixtures in your bathroom? Or maybe you simply have a fixture with the bulb sticking out of each end. Regardless, swapping out a light fixture is an easy DIY project. This 3 light fixture set will completely upgrade your bathroom decor.
This bathroom light fixture uses 60 watt bulbs at 110V. This fixture is perfect for switching out an existing bathroom light with something more classy and modern. The fixture is black, with white on the inside to help reflect the light from the bulbs. Brass trim completes the light fixture.
Product Features:
Vintage Style Farmhouse Sconce, complements a wide variety of decor and add retro appeal.
Use 60-watt maximum incandescent light bulbs (note: Bulbs are NOT included), E26 Medium Base, 110V Operating Voltage.
Vintage Wall Sconces is perfect for bathroom, vanity, kitchen, powder room, or dressing table.
Easy to install with installation instructions and upgrade nuts. Hardwired, no switch or plug on the fixture itself.
Vintage LED Night Light
These vintage look night lights are so adorable! They have an early 20th century look with an Edison style acrylic LED bulb. This type of bulb is long lasting and low heat. These night lights are prefect for your farmhouse bathroom decor, and also look great in kitchens, hallways, bedrooms, the living room or dining room – wherever you need a little light at night. I love having a night light like this in the house for when you wake up and need a drink. Having a night light is so much nicer than blinding yourself with bright lights just for a trip to the bathroom. This night light has a light sensor that will automatically turn it off during the day and back on at night to save energy. These vintage night lights are the perfect rustic bathroom accessories.
Product Features:
Decorative hood with cage offers a rustic designer look to complement your homes style and decor.
Light sensing technology allows the night light to turn on at night and off during the day automatically.
Can be plugged in to leave an outlet open, or cover the whole electrical socket.
This night light is UL listed and is backed by a lifetime assurance
Cool to the touch, and energy efficient LED means no bulbs to replace; provides 2200K warm white light
Luxury Chenille Bath Mat
These luxurious chenille bath mats are amazing to have in your farmhouse bathroom. If you are looking for farmhouse bathroom rugs, you seriously need to check these out. They are made of super absorbent chenille. This helps them absorb the water that would otherwise end up all over the floor after a shower or bath. These bathroom rugs come in 13 different colors of microfiber chenille. For your farmhouse bathroom, I would recommend either the grey, white, or navy rugs. They are 31.5″ x 19.8″ long. These rugs are super easy to care for too – simply throw them in the washing machine on cold when they get too dirty, then air dry. They have a non-slip backing to ensure that they won't move around underneath you.
Product Features:
Super absorbent microfiber Chenille
31.5 x 19.8 inches.
Machine washable with cold water, no bleach. Air dry.
Adhesive backing to ensure the rug doesn't move when you use it.
13 different color selections.
Country Style Claw Foot Bathtub Vintage Planter/Soap Dish
This French country vintage look soap holder is just too cute. If you are looking for vintage farmhouse bathroom accessories, then this is perfect for you. This adorable claw foot bathtub is perfect for your farmhouse bathroom. It can be used as a soap dish, a planter, accessories tray, ring holder, and more. It has old French script written on it, and just the right amount of distressing. Grab this claw foot bathtub for your farmhouse bathroom today!
Product Features:
Porcelain French claw foot bathtub decor piece can be used as a small planter, soap dish, or accessories tray
Old french script written on the bathtub adds a vintage flair.
The classic white bathtub decor is contrasted with dark brown rustic script and weathered lines.
6 L x 3.3 H x 2.5 W inches
Rustic Bathroom Shelves
Looking for the perfect farmhouse hand towel holder? Maybe you want a farmhouse bathroom towel rack? This set of wood shelves can fulfill both needs and provide storage for other items. This two tier bathroom shelve is designed to add to the decor of your bathroom and add storage. It is easy to hang on your bathroom wall. You can hang this shelf on the wall and just use it as wall decor, or use it as a functional piece to add storage to your bathroom. It has two hanging hooks at the bottom for use with bathroom towels. The rustic wood look to this piece is perfect for your rustic bathroom look.
Product Features:
Great bathroom wall decor piece to add storage to your bathroom, or use it to display wall art.
Brown wood two tier shelve with hooks at the bottom for hanging items.
Lightweight, high-quality, and low-cost wall hanging shelves.
Easy to mount with the screws on it, no assembly required.
16 H x 13 W x 5.5 D. inches. Maximum Load Weight Supported: 15 lbs.
Mason Jar Bathroom Accessories Set 4 Pcs
These farmhouse bathroom countertop accessories will complete the look in your bathroom. This set includes four different mason jars with specialized lids and stickers for labels. This set includes a farmhouse toothbrush holder, a jar soap dispenser, and two smaller jars with lids for things like hair ties, bobby pins, cotton balls, etc. These jars come with stainless steel accessories coated with a black corrosion proof coating to prevent rusting. The jars themselves are glass. They also come with eight different sticker labels that you can apply, as well as two hanging tags and some hemp style rope.
Product Features:
Mason jar soap dispenser has a 16 oz regular mouth mason jar and stainless steel soap dispenser. Made of durable 304 stainless steel metal pump coupled with coated stainless steel lid preventing rust and corrosion for longevity. Suitable for conditioner, liquid soap, dish soap, lotions and more.
Two apothecary jars are 8oz regular mouth mason jars and heavy duty 304 stainless steel lids. These are great for storing small bathroom accessories. Easy to store and open.
Farmhouse toothbrush holder has a 16 oz wide mouth mason jar and black stainless steel lids with 3 large compartments , fit most sizes of electric toothbrushes, normal toothbrushes, toothpaste tubes, flossers, razors and more. Made of durable, rust-proof thicker stainless steel, be blunt and safe to use.
Funny Rustic Bathroom Decor Box
These wooden boxes are great for storing toiletries or displaying farmhouse bathroom accessories. You can use this above the toilet, sitting on the counter, or place it on a hanging shelf on the wall. This comes with two funny sayings, one on each side – "Nice Butt" and "Hello Sweet Cheeks". This makes a great farmhouse toilet paper holder, counter top accessory holder (prefect for the four piece mason jar set above), hand towel holder, and more. This bathroom caddy is made of solid wood, with hand painted lettering.
Product Features:
Storage boxes have a saying on each long side – NICE BUTT (for a good laugh) and HELLO SWEET CHEEKS (for a bit of class).
Friends and guests will love your bathroom box. You're sure to get a laugh from our cute, unique and practical piece of art / decoration. What a funny way to brighten the day!
Hand painted letters which won't peel in humid bathrooms like the vinyl stickers used by other brands.
Wooden box is 100% real solid wood which won't splinter or chip like MDF or pressed board.
Sized to fit on all standard toilet tanks.
Galvanized Toilet Brush with Holder Set
This rustic farmhouse style toilet brush is too cute. It would look great in your bathroom (unlike most toilet brushes). Pair it with the galvanized look waste basket above for a matching look. This toilet brush holder is made of metal with a galvanized look. It has a plastic internal liner to prevent leaking and rusting. It comes with a sturdy brush with stiff bristles for keeping your toilet clean.
Product Features:
Constructed of Metal And Made To Last
Galvanized Finish With Silver Handle Adds Warm Farmhouse Appeal
Sturdy Brush With Stiff Bristles Will Leave Your Toilet Sparkling
Plastic Internal Liner Is Leak- and Rust-Proof
In summary
These cute items are all great farmhouse bathroom accessories that will help you get just the right look in your bathroom. You can mix and match and just choose a couple of pieces, or buy them all.
Related Posts