Before starting any home improvement project, getting a couple of estimates is typically a good first step. However, with a large remodeling project such as a kitchen remodel, a little more research is usually needed. This large project requires a budget in order to keep costs in check.
A general benchmark is to spend between 5 and 15 percent of your home's total value on your kitchen remodel. This is based on recuperating the cost of a kitchen remodel during a home sale.
Start by asking yourself a few questions that will help determine the overall budget.
Do you want to change the layout or size of the room? Moving the location of sinks or appliances requires plumbing and electrical changes which add cost. Of course moving walls adds cost and may require a structural engineer or architect getting involved. On the other hand, keeping the existing layout will save both time and money.
How long do you plan on living in your home? If you are trying to spruce up your home for a quick sale, you won't want to spend very much. However, if you plan on living there for awhile, you will want to invest in higher end materials that you can enjoy over the years.
Will you be re-using any materials? Perhaps you don't need to upgrade all (or any) of your appliances. Maybe you love your floor and don't want to change it. Or, your cabinetry is functional, and you just want to paint them instead of replacing them. If you are able to repurpose some of your existing kitchen, it can save you a lot of money. Conversely, if you are replacing all your appliances with luxury brands, you will need to budget accordingly. For example, the least expensive fridge-freezer from Sub-Zero costs over $8,000.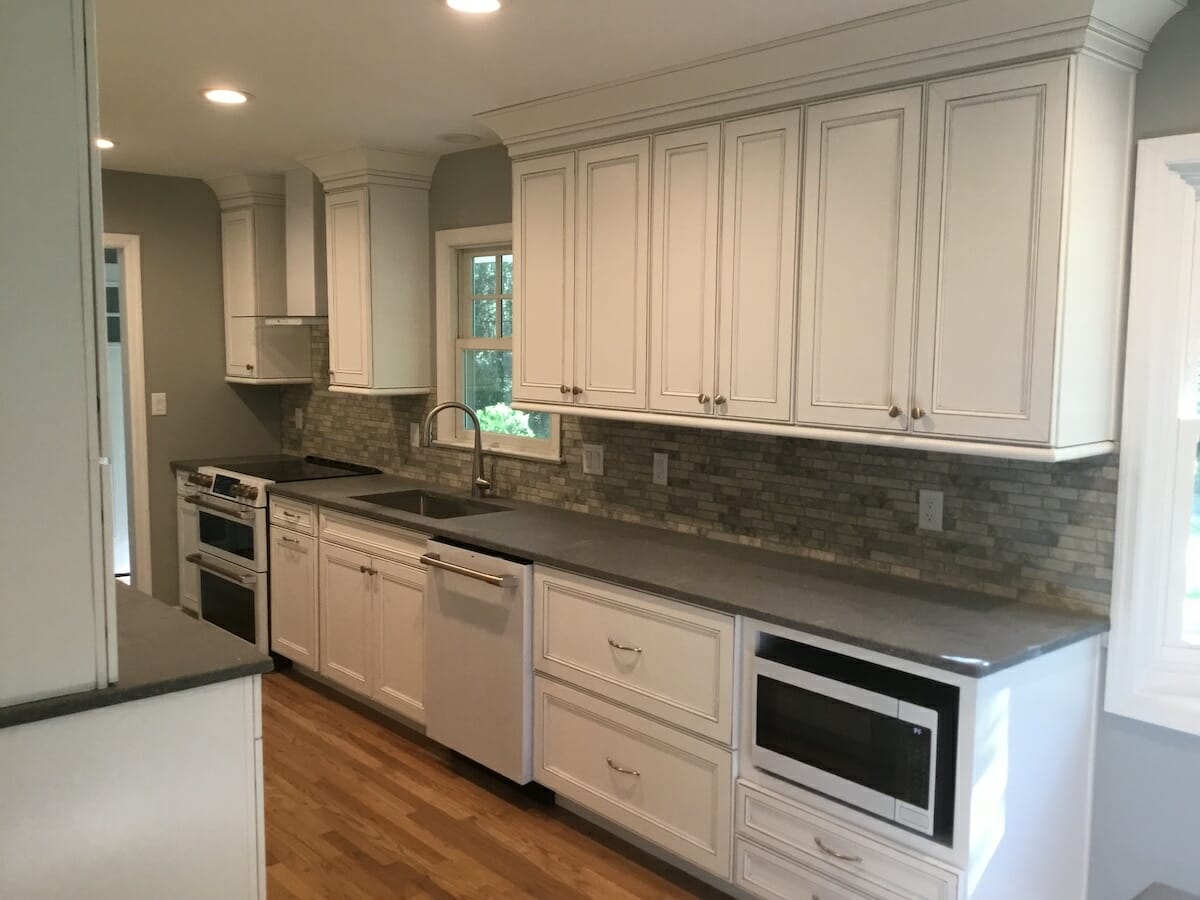 How Will The Money Be Spent?
According to the National Kitchen & Bath Association, kitchen remodeling costs break down as follows:
Cabinetry and hardware: 29%
Installation: 17%
Appliances and ventilation: 14%
Countertops: 10%
Flooring: 7%
Walls and ceilings: 5%
Lighting: 5%
Design fees: 4%
Doors and windows: 4%
Faucets and plumbing: 4%
Other: 1%
If you are considering Monk's for your kitchen remodel, you should know that we do not charge any fees for our kitchen design services. You do not need to budget for this service.
HERE'S HOW TO FINANCE YOUR KITCHEN REMODEL
There are many options available to finance a kitchen remodel. Here are some options to consider for your remodel.
A home equity loan, or second mortgage, may be an option. Money borrowed through a home equity loan is provided in a lump sum. The homeowners must immediately begin paying off the loan in monthly payments.
A home equity line of credit (HELOC) is more flexible than a home equity loan. Once the line of credit is established, the homeowners can borrow at any time during the draw period specified in the HELOC agreement, and can borrow any amount up to the maximum credit limit specified.
Custom line of credit typically allows you to borrow up to $25,000, with a variable interest rate indexed to the prime rate.
Personal loan typically allows you to borrow up to $50,000 through personal loans, which are unsecured. The loans are for a fixed term, have a fixed interest rate, and are repayable in equal monthly installments.
FHA Title 1 loan makes it possible for homeowners to borrow as much as $25,000 for home improvements.
Security backed lines of credit is similar to a HELOC. However, this line of credit is backed by your own investments. This revolving line of credit is available to homeowners with investment portfolios of $200,000 and more.
One way people try to cut costs is by doing some of the work themselves. While this can be a tempting option, you need to consider a few things first. In order to pass inspection, you will need all plumbing and electrical work to be done by licensed professionals. Additionally, be honest with yourself. How much time can you really spend doing the work? If you aren't under any time constraints this may be a great option for you.
MONK'S NOW OFFERS FINANCING
Application is quick, easy and free. Our partner offers a fixed interest rate and low monthly payments. Learn more about our financing option.