High-end mobile home parks may become part of the St. George landscape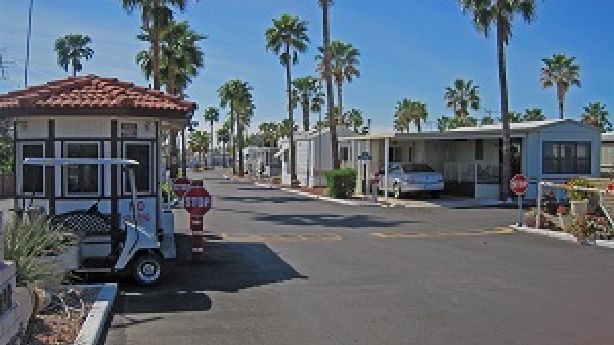 Mobile home parks are not what they used to be. Now they offer tree line landscape and amenities such as pools, spas and clubhouses with weight rooms often found in high-end communities. Date and location not specified. (Brett VA via Wikimedia Commons, St. George News)
Estimated read time: Less than a minute
ST. GEORGE — High-end mobile home parks with additional space for recreational vehicles may be coming to St. George in the near future.
Salt Lake City-based Mountain West Commercial Real Estate is eyeing St. George and Washington County for a potential expansion of their business model to Southern Utah, which will include manufactured homes – a euphemism that once upon a time referred exclusively to a mobile home design.
Today's manufactured homes bear little resemblance to the mobile homes that were bought prior to 1976 when all manufactured homes were considered "mobile."
Now, the term mobile homes has been exchanged for manufactured homes, which also includes prefabricated homes and recreational vehicles with more than 400 square feet of living space.
In the past year, Mountain West has continued to expand and broaden its services with its latest extension in developing manufactured housing parks for mobile homes as well as recreational vehicle investment opportunities for its clients.
The advantage, industry analysts say is that high-end mobile homes usually offer a choice of floor plans and high-end interior options.
Read the full article at St. George News.
×
Photos
More stories you may be interested in