When I asked my landscape designer about a circular driveway as a solution to the awkward parking, she said no, but that everyone always thinks that's the answer. In fact there's a better solution to our parking situation.
And now that I can visualize it, I'm so excited for our front garden and driveway design idea.  
How to solve an awkward parking situation
When Terreeia and I bought our French Country house (above), my first area of concern was the awkward parking situation.
The moment you have more than just one car parked at the front of the house, you have to back all the way down the driveway in order to get out.
SIDE NOTE: So the reddish brown shutters on this house bother me the most, in addition to the stone that needs to be OVER GROUTED asap! However, the first quote we received was $16,000 to overgrout the stone!!
Anyway, it will be painted in the Spring but I have to settle with it looking like this for now.
Ok, back to our current driveway. What happens when Terreeia and I are parked in the garage and we have visitors also parked in our driveway? Now everyone has to move if we want to get our cars out. That's not an ideal situation.
 I messaged MaryAnne White (My virtual landscape designer, who helped me design my current garden):
"Do we need a circular driveway?"
"No but everyone with property like yours always thinks they need one," she replied.  "You need a minimum of 55-60 feet in order to make a smooth turn." See the drawing below.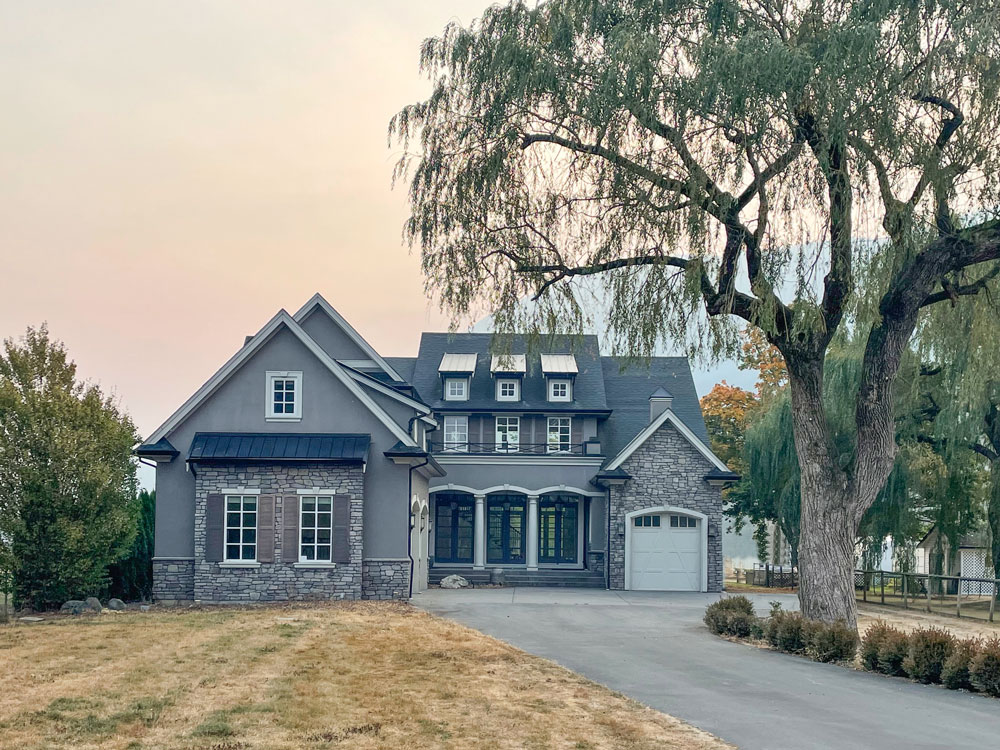 Wow, seeing how many feet I would actually need to carve out in order to create the circular driveway was eye-opening. And, what I could not imagine or visualize, was how to add more parking, without creating this kind of look:
Especially because I worried that we already had too much concrete in front of the house. Our home design includes a fake third garage which is actually a storage room (below).
Adding a parking bib to the driveway
"Leave it to me" MaryAnne replied, "what you need is a parking bib" and then I received this drawing:
Keep in mind this is a conceptual preliminary drawing. In order to accommodate all the cars and still pull in and out without a 9-point turn you need to create additional space along the driveway.
MaryAnne agreed that we needed the aggregate of concrete where it is because of the third garage but we will take some of it out and install cobblestone for this kind of look:
This is one of MaryAnne's clients who also had a big driveway. It looks so pretty now with the addition of the cobblestone along the perimeter:
And here's a look at the front garden, also designed by MaryAnne:
Why I hired a landscape designer
I am thrilled to now have a vision in my head of what the front garden will look like. 
When I worked with MaryAnne on the transformation of my current garden, I remember receiving so many messages from followers who didn't understand why I needed a landscape designer. They seemed to think that because I'm a designer of interiors that this would somehow make me an expert in gardens as well.
Sometimes we need to be reminded: If you're not an expert, hire a professional who is. 
Had I tried to conceive of this myself, it would have taken many, many hours of reviewing inspiration images only to end up with a design that would never be what a seasoned professional would do.  And take up way more time than I have, that's for sure.
I am thrilled to have MaryAnne's help yet again on this new project! I will probably do another white (and yellow) garden because I still love the white garden I have now. Here's what the front of our house looked like when we took possession 10 years ago:
Read more: Professionals Know When to Avoid the Obvious
After
And this one always makes me smile, here's my design studio before:
After
Here's the backyard again including the vegetable garden:
The renovation of our new house is currently in the drywall stage so there's not much to see, but follow me on Instagram for daily updates here.
My last virtual Specify Colour with Confidence event is happening this Thursday and Friday, also, I know many of you  tried to get into my free decorating webinar last Friday and couldn't, we didn't know it had a limit, sorry about that, next time we will be more prepared.
Related posts:
First Rule of Design; Boring New Equals Timeless Later
From Gray Gardens Disaster to a Timeless Blue Exterior, Before & After
Create Gorgeous Curb Appeal with Front Door Colour Ideas